Enjoy Breakfast on Your Balcony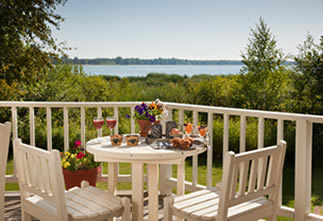 Breakfast is simple. Each morning we offer fresh baked goods along with seasonal fruit, our homemade granola, oatmeal, yogurts, smoothies, juices, coffee, teas, milk and hot cocoa.
We have embraced the challenges of our times by replacing our breakfast buffet with a Grab 'n Go breakfast bag delivered to your door. Each evening we will pick up your checklist of breakfast choices. They will be delivered at a time of your choosing between 8:00 and 10:00 the following morning.
Our Commitment to Being "Green" [Read More…]
While our commitment to "green" has always been our guiding star, the realities of today have nudged us toward more disposables. The good news is our Grab 'n Go bags will feature paper containers and compostable flatware, we will provide compostable pods for the in-room Keurig machines, and sourcing locally will always be our priority.