Enjoy Breakfast on Your Balcony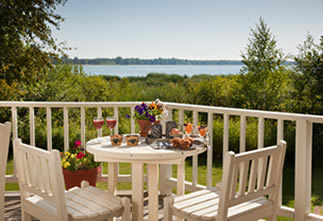 Breakfast is simple. We bake each morning from the freshest ingredients and serve muffins along with seasonal fruit, our homemade granola, cheeses, yogurt, hard boiled eggs, smoothies and juices, coffee, tea, milk and hot cocoa.
Our Commitment to Being "Green" [Read More…]
Our commitment to "green" includes yogurt and cheeses made in Wisconsin, milk purchased in glass returnable bottles, coffee roasted right here in Door County and the liberal use of cherries and apples grown in the orchards that dot the landscape of the peninsula.
We offer breakfast as a buffet, served from 8-10 a.m. in the lobby of each building. The aroma of cherry muffins fresh from the oven and a steaming pot of our signature breakfast apples is likely to stir you from slumber on a crisp fall morning. Load up a tray and return to the privacy of your balcony or enjoy the camaraderie of dining on the common balcony, either choice offers a mesmerizing view of the morning light glistening on the harbor.